So It turns out I was even wronger in I Was Wrong About A Thing: There Was Still Room For Distancing To Improve Things, since I said there that we wouldn't get better than .08% with fevers.
We had 3 days at 0%, actually.
It hasn't stayed at 0%, of course, but it's been close: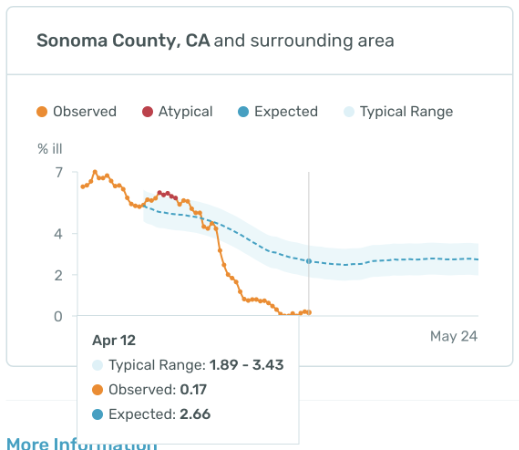 That's really good, compared to their expected range; it does look like we're going to shorten the flu season too.
And it's not just Kinsa's data.
The flattening in Kinsa's data at and near 0% is reflected in the county's "active" COVID-19 cases as well: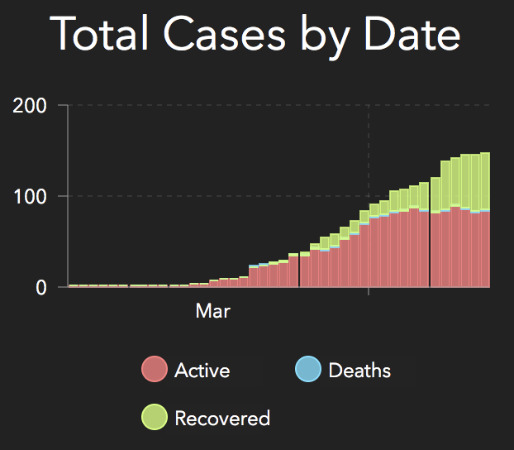 We've had no growth in active cases for a bit over a week, so either this is a steady-state level of COVID-19 cases we should expect for the near future given this level of social distancing or it's the start of a slow downward drift.
One outbreak could derail that trend, of course.
A church gathering, for example, could lead to hundreds (which eventually leads to thousands) of new cases just as they have elsewhere.
So it's not time to relax yet, but it is time to be confident that the course we're on is working. We just need to settle in and make sure everyone's taken care of for now.
Keep it up, Sonoma County; it's working.