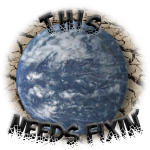 It seems to be true though, and is being vouched for by one of the very few people who has survived both.
So you should probably read this:
Woman Who Had Her Face Eaten By A Bear Would Like Some Medicare For All, Please!
That's … not good.
No; and it is a horrendous indictment of healthcare in the United States:
"Literally, as I was being eaten by a wild beast, I wasn't thinking about Jesus or my family or my son. I was thinking my insurance was not going to pay for this," she told The Independent. "I had to make this calculus as I was being eaten, 'Do I want to survive this?' Not, 'Can I survive this?' Not, 'What am I going to look like?'"
She added: "I think that speaks volumes to the American healthcare system."
That kinda says it all.
This system is broken; we need to fix this.