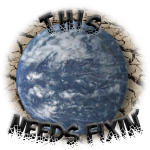 This post follows Background: You Are Responsible For Your Own Actions. They're part of a series trying to set down some background philosophical stances that come into play when I think about America's culture war issues.
First let's define a few terms.
Racism.
Bigotry on the basis of race.
"Race" is an annoying term in itself, since it's used to both refer to the biological factors involved and to the cultural stereotypes associated with a particular set of biological factors. At least with "sex" and "gender", our language has already evolved to treat biological and cultural factors separately; with "race" the two are still frustratingly entagled.
That doesn't matter much in this situation, though, since in the context of bigotry only the cultural factors are really involved.
Systemic.
An attribute of a system.
For something to be an attribute of a system, it needs to be present regardless of the individual participants in the system. If you change out the people involved in a social system, and you get different outcomes, then those outcomes are attributable to the individuals; if you get the same outcomes, those outcomes are systemic.
To do this properly, of course, you'd have to examine a wide variety of individuals playing the same role in largely identical systems.
Systemic Racism
This would therefore be a system which necessarily produces bigoted results regardless of who is operating it.
As a child of the '80s, apartheid-era South Africa springs to my mind as an obvious example: no matter who ran the local police station in that system, the white population was going to prosper and the black population was hosed.
The antebellum United States fits this pretty well too, especially the South but in the North as well.
But the situation with the modern United States is much less clear.
Pretty much everything I've seen called "systemic racism" is clearly racism but falls far short of systemic.
Voter identification laws, for example, do clearly have racist motivations and may very well have racially-biased results (although it's far from clear that that will always be the case), but they do not generally affect black voters more than they do white voters if you control for poverty. The burden of voter ID laws falls broadly on poor voters, and their theorized effectiveness comes from their supporters hoping that the result will come out in their favor, simply because a higher percentage of black voters than white voters are poor.
Powerful racists will also generally be classist, so the fact that targeting the poor in general in order to suppress black voters won't bother them that much. (Clearly, otherwise they wouldn't be using probabilistic tactics like this.)
The U.S. is systemically classist, but individually racist.
So to claim that voter ID laws are "systemic racism" just lets the powerful racists off the hook; it's not that so many of us are racists, it's the system, man.
And this misunderstanding is a serious problem, since this focus on "systemic racism" distracts from the real issue: many of us are just flat-out bigots in lots of ways and the only way the United States can ever be more just is for us to adapt its systems to be resistant to all forms of individual bigotry.
Because while you can potentially fix a system, you can't really fix people.